From RDV Official Site:
Unique replica of the Spanish galleons that for three centuries linked Asia, America and Spain and allowed the greatest interchanges of culture, people and ideas in History. They ruled the navigation through the oceans of the world and became the only commercial and cultural vehicle between continents, being responsible for the first worldwide globalization.
This replica was built in Spain by the Nao Victoria Foundation to be a unique-in-the-world vessel where tradition ans modernity meet and represent the Spanish culture. Apart from its singularity as a replica, it has more than 3,400 square foot of decks open to visitors, which make it a floating interpretive center of the history of the Spanish galleons and their role in the dissemination of the Spanish culture throughout the world and its relationship with America.
Facts and figures
More than 3,400 square foot to visit (in different decks)
6 decks
Length: 38 m
Capacity: max. 150 people/event
Maximum number of visitors per day: 5,600
Lenght: 164ft./Main beam: 33ft./Draft: 10,5ft.
3 Masts/7 Sails/10,000 square foot sail area
Official Facebook page: El Galeon
Powered by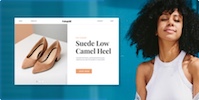 Create your own unique website with customizable templates.